Even if you aren't planning to sell your home in the near future, any decisions about home improvements you make should be influenced at least in part by what they do for the resale value. While you wouldn't necessarily choose one project over another strictly because of the value it would add, it doesn't hurt to have the information in hand in case you are torn between various options. It is also important to know how home improvements can boost resale value if your end goal is to get the best sale price from your home you can.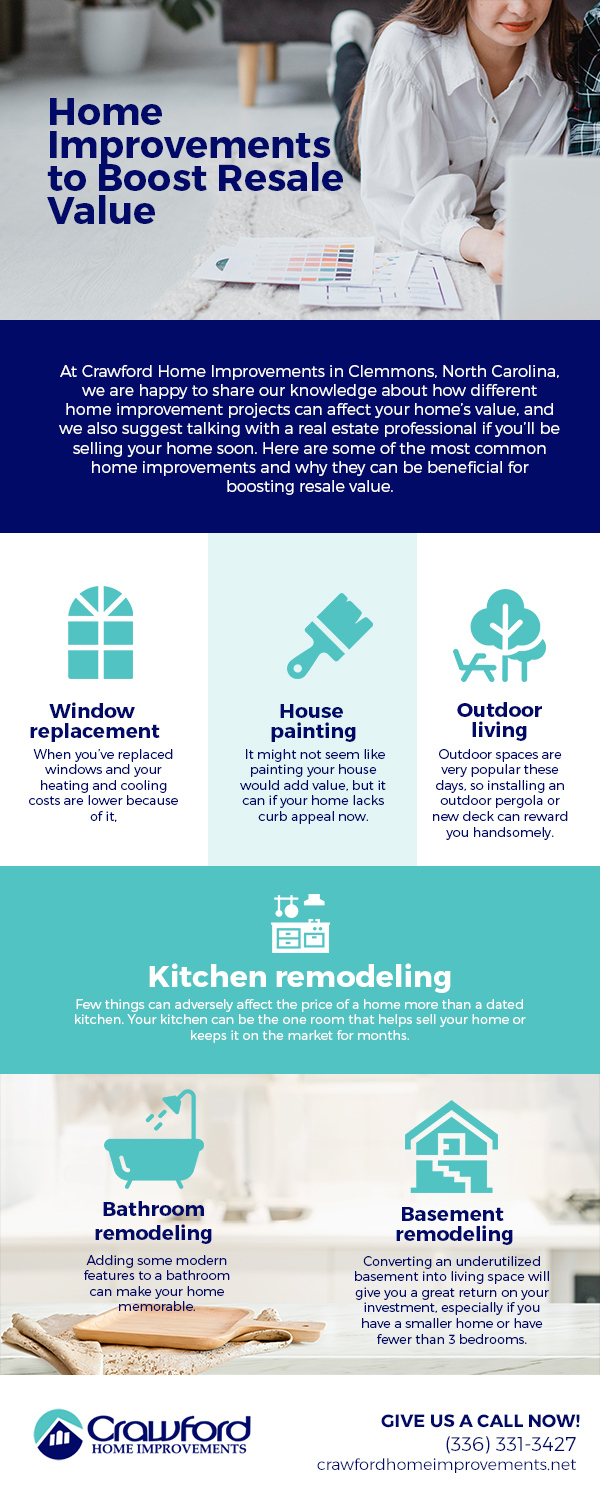 At Crawford Home Improvements in Clemmons, North Carolina, we are happy to share our knowledge about how different home improvement projects can affect your home's value, and we also suggest talking with a real estate professional if you'll be selling your home soon. Here are some of the most common home improvements and why they can be beneficial for boosting resale value.
Window replacement- A savvy buyer looks for an energy efficient home. When you've replaced windows and your heating and cooling costs are lower because of it, your home is going to be more enticing to the buyer who wants those low utility bills.
House painting- It might not seem like painting your house would add value, but it can if your home lacks curb appeal now. If it doesn't look appealing to a buyer driving by, they may never schedule a tour.
Outdoor living- Outdoor spaces are very popular these days, so installing an outdoor pergola or new deck can reward you handsomely.
Kitchen remodeling- Few things can adversely affect the price of a home more than a dated kitchen. Your kitchen can be the one room that helps sell your home or keeps it on the market for months.
Bathroom remodeling- Adding some modern features to a bathroom can make your home memorable.
Basement remodeling- Converting an underutilized basement into living space will give you a great return on your investment, especially if you have a smaller home or have fewer than 3 bedrooms.